How to build a foundation for success: five activities that differentiate promising edtechs from those that become great
As an edtech startup, your early decisions will determine your path and your future.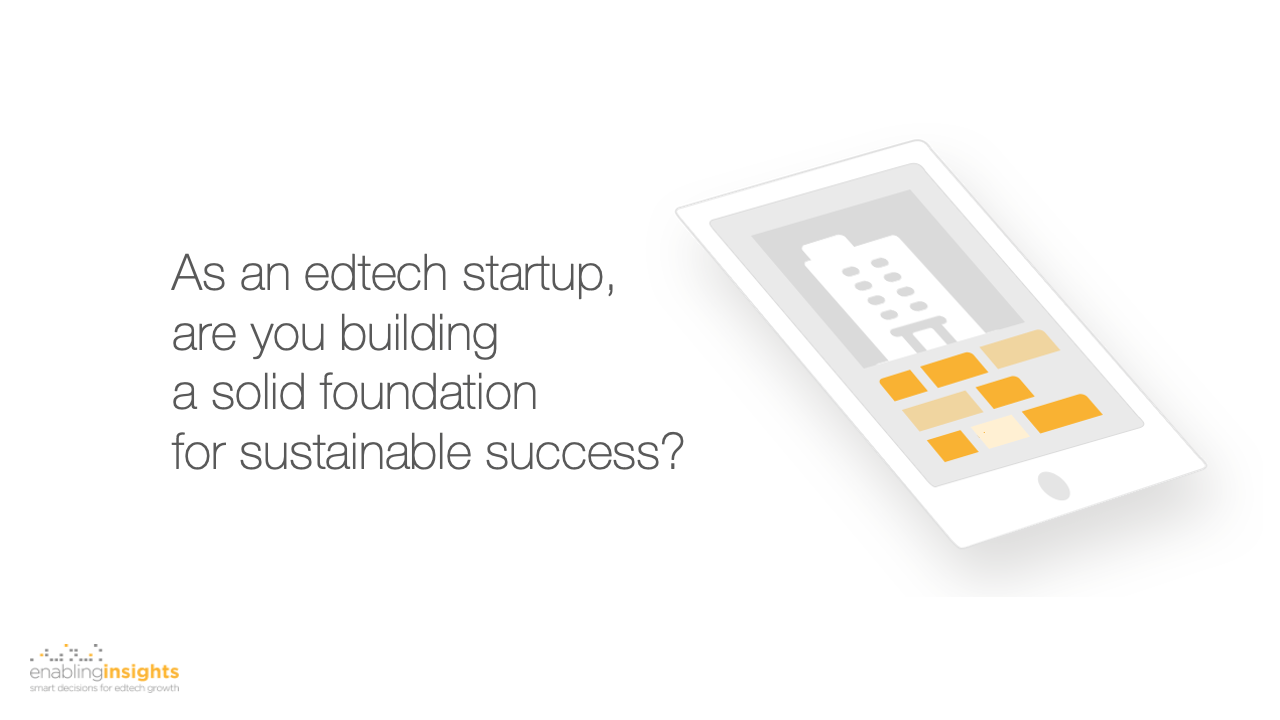 Are you building a solid foundation for sustainable edtech growth and success?
What are five foundational activities for edtech startup success? In particular, what activities differentiate early-stage startups that enjoy a flurry of initial customer uptake from those that go on to build sustainable success?
There's lots of great advice out there for why and how to launch an edtech startup and reasons edtechs fail. I've met hundreds of ambitious edtech companies with creative ideas and bold ambitions in my career. And I've been fortunate to have had the opportunity to critique and coach more than 160 to date.
Five foundational activities for edtech startup success
Despite all the variance, when I reflect on what differentiates edtechs that have gone on to become very successful at scale, I'm struck by five traits which I coach all startups to take very seriously:
1. Be relentless in seeking to understand your target customers' goals (aka outcomes). They should be your North Star and will ultimately take you much further than asking customers about their needs or preferred features (which are a mirror of the past, not a better future).
2. Ensure your strategy enables you to grow a sustainable competitive advantage. For example, so that the more users you have, the richer your product experience, faster the growth of your SEO traffic, or deeper your proprietary know-how. In other words, look for ways to ensure that you are fundamentally growing competitive distance from your competitors.
3. Understand what customers like about your competitors. Ignorance is not bliss—know what it will take and how to win customers from products and services they already use. If you can't name features of competing products that customers love, you don't know your customers well enough yet.
4. Derive early, regular, and honest customer feedback. Insights are not a luxury "for later"—they should inform your earliest decisions, and on-going priorities, and investments. Nurture a culture of curiosity from day one about what customers do with your product, why, and how and use that understanding to improve and evolve.
5. Develop sharp value propositions centered on your customers. All too often, edtechs frame their value around their technology or service—"we have the fastest widget, best people, and most patents"—rather than what these will enable customers to achieve. Flipping your value propositions puts you in your customers' shoes and drives customer-centered innovation.
Of course, there are plenty of other essential things you need to do (lookout for my upcoming blog). But, if you don't pursue these five foundational activities for edtech startup success, my experience is that they'll catch up with you. So, take them seriously—starting today!
Need help? Have feedback?
If you're an early-stage edtech startup and you want a fast, incisive, and experienced assessment of your foundations and practical advice for how to shore these up, please contact us using the form below—we'd love to help. We also welcome your feedback or questions—just use the form and title "Your challenge" with the word "Feedback".